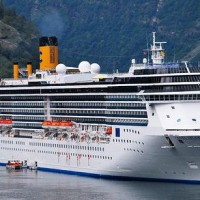 On Friday, the territory rolls out the welcome mat for Chinese tourists.
The Costa Cruises Line, cruise ship "Costa Atlantica" docks at 8 Friday morning, with  2,652 passengers and 902 crew members on board.
The cruise ship is on its maiden voyage, first time to American Samoa, carrying a charter from Shanghai China.
The liner will be in port until 6pm.
To put on a good impression for the Chinese tourists, the American Samoa Visitors Bureau encourages and requests  bus & taxi drivers and tour driver drivers to please wear clean "elei" or Polynesian printed shirts and lavalava or slacks when picking up passengers from the ship.
The bureau says "Let's welcome and extend American Samoa's warmest hospitality to our guests and visitors for the day."
Cruise ship market vendors will be set up at the Fagatogo malae,  "Malae O Le Talu" and a cultural show will be held at the Fagatogo Pavilion.
Cultural activities and handicraft demonstrations will be held at the Arts Council Fale Samoa courtesy and in partnership with the American Samoa Council on the Arts, Culture and Humanities.
The Fagatogo marketplace will also have stalls selling island fabric, clothing and handicrafts as well as fresh produce and local food to the visitors in partnership with Department of Commerce.