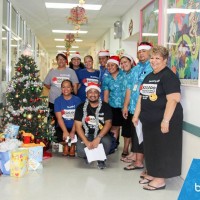 The BlueSky Santa and his elves went ho-ho-hoing through the LBJ Pediatric Ward today.
They gave out sweet treats and gifts to all of the young patients.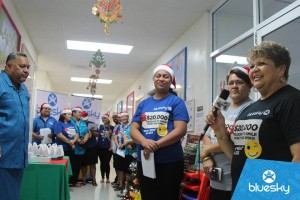 BlueSky staff sang Christmas carols and distributed presents for the children in the ward.
In addition BlueSky gifted for the Pediatric Ward, books, chairs, a Christmas tree for the kids' playroom, and $1,000.
President of the American Samoa Nursing Association, Mrs. Tofiga Tufele was pr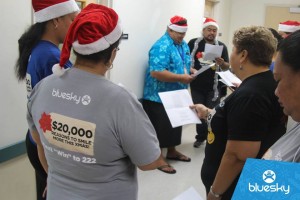 esent with the Pediatric Ward staff Ruth, Laura, and Belinda to receive Bluesky's gifts.
Lt. Governor Lemanu Peleti Mauga who was distributing gifts with First Lady Cynthia Moliga to all of the hospital wards, was present for the BlueSky giveaways.
There were smiles all around, from the patients, their parents and Pediatric Staff as BlueSky employees sang Christmas carols and stopped by each room to hand over presents which bore the patients names.
BlueSky Country Manager Filifotu Vaai said Christmas is a time for giving.
Some families may be spending Christmas at the hospital for their children, and  Bluesky is happy to  bring Christmas cheer to them.