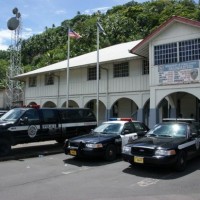 Here's a first…The Department of Public Safety work schedule for the 2016 holiday enforcement was drawn up by the Director of Human Resources, not the Commissioner of Public Safety.
The unprecedented move has riled up the rank and file at DPS and it appears that dissatisfaction reaches to the top of the department.
Since the holiday enforcement work schedule was released yesterday, KHJ News has received calls and complaints from mostly senior officers.
Commissioner Save Liuato Tuitele confirmed this morning that Director of Human Resources Lei Sonny Thompson did the work schedule.
He said the holiday enforcement schedule that DPS had put together was replaced by a schedule DHR came up with.
The commissioner said he argued vehemently against the DHR's schedule but he was overruled by the Lt Governor.
Their explanation was there are no funds to pay the officers' overtime.
Save pointed out that both the DPS schedule and what DHR came up with required overtime for the holiday enforcement.
But because he was directed to use the DHR schedule, some of the enforcement activities which DPS included are being eliminated.
Each Christmas and New Year holiday, DPS stages roadblocks  to catch inebriated drivers.
But not this year.
The Commissioner says instead of roadblocks , DPS will use roaming patrols to nab drivers who are under the influence and also augment the substations which have only 2-3 people per shift.
Save said there are several other concerns but there's no money for overtime.
He hopes and prays that the territory will have a quiet holiday season–otherwise "we will be in a world of hurt if serious incidents happened especially if they occurred simultaneously."
Director of Human Resources Lei Sonny Thompson was unable to answer questions when reached this morning, as he was in meetings.
Two 20 plus year veterans of the police force couldn't believe that a function of DPS has been taken over by the Human Resources Director.
They said public safety should be the main consideration, not overtime costs.
They said the lives of the public and officers are being put on the line just because leaders don't want to spend money on overtime.
Yet there are so many other frivolous spending that goes on which leaders turn a blind eye to.
They are also appalled and embarrassed that the Commissioner's authority to run DPS can be taken away just like that.