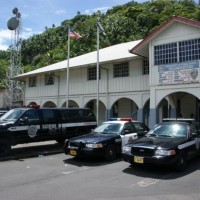 Police took into custody yesterday two more suspects wanted in connection with a series of store burglaries in the Western District.
A ninth store was robbed on Wednesday in broad day light.
Commander of the Criminal Investigations Division of Public Safety, Falana'ipupu Taase Sagapolutele, was reluctant to give details citing that investigations were continuing.
He did confirm that two young adults are being held for questioning in connection with the  robberies.
The first suspect that police nabbed was a juvenile who was arrested on Wednesday night.
A total of 9 stores were robbed, all were Asian owned and were opened 24/ 7.
The suspects apparently used a gun, knives and sticks during the robberies.
In several, the suspects took off with cash registers.
Police are reported to have found some of the stolen loot.