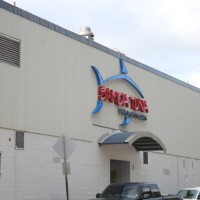 Employees of Samoa Tuna Processors are two days away from their final day of production at the Atuu plant before canning operations are closed indefinitely.
Initially, when the owners of STP, Tri Marine International announced that it would be suspending operations the week of December 11, many employees thought that this was the regular Christmas and New Year shutdown.
General Manager of STP Palepua Faafoi told KHJ News that the cannery is making presentations of wahoo and albacore packs for all of the cannery employees.
This is the cannery's gift presentation for the holidays.  The employees' final day of work is this Friday.
The GM  says as cannery employees found jobs elsewhere they left STP.
All employees who are losing their jobs have filed out an ASG survey and the information will be used in the government 's application to the US Department of Labor for training assistance for the affected workers.
Palepua says employees have been informed of the company's efforts to resume production or secure a buyer for the plant and they would be called in when those efforts are successful.
Other than the Filipino company, AVM Bernardo Engineering whose owner Anthony Bernardo toured the STP plant last month, no other parties have inspected STP, though KHJ News has been told that a handful of off island companies have been talking with Tri Marine International.
When asked to name some of the interested companies, Mr. Joe Hamby, Chief Operating Officer of STP,  declined to name names.
It's a known fact that about 80 percent of employees at both Samoa Tuna Processors and Starkist Samoa are from Samoa.
Samoa Prime Minister Tuilaepa Sailele has said that the Samoa Government  is looking at how it can help the displaced employees.
The closure of the STP plant happens at the same time that the Yazaki plant in Samoa is closing putting close to 1,000 workers out of jobs.
While STP is not doing well, another Tri Marine cannery in Solomon islands can hardly keep up with demand.
According to Mr. Hamby, they've had to sell and reflag one of their purse seiners based here to the Solomon islands to supply fish for their cannery there.
Play Audio
Tags: