The Executive Director of the American Tunaboats Association Brian Hallman left the 13th session of the Western and Central Pacific Fisheries Commission disappointed.
The Tuna Commission's main role is to set rules for the conservation and management of highly migratory fish stocks in the Western and Central Pacific region.
Provisions set by the Tuna Commission deal with illegal, unregulated and unreported fishing in high seas pockets, fleet capacity, the use of Fish Aggregation Devices and the types of fishing gear and methods used.
Hallman told KHJ News at the conclusion of the Tuna Commission meeting in Nadi, Fiji Friday that as far as the American Tunaboats Association is concerned, the WCPFC is ineffective.
This is the same sentiment he expressed when he spoke to Pacific media earlier in the week.
Hallman said the WCPFC has failed to deliver on several fronts.
Play Audio
Hallman says the outcome of the 13th session was not good for the US fleet.
For example for 2017, the 4-year Resolution agreed in 2013 will apply.
Hallman said the worst thing about this is that the 2013 Resolution has a loophole that allows some fleets to make Fish Aggregation Devices (FAD)  on the high seas in 2017, but not others, including the US fleet.
One of the contentious issues for the US fleet is the limits placed on fishing in the high seas.
Hallman says no other country spoke in favor of amending the current resolution on catch limits for fishing in the high seas.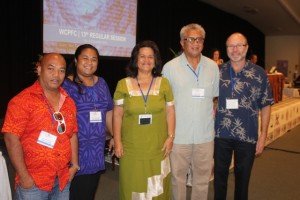 American Samoa's delegation to the WCPFC , led by Director of Marine and Wildlife Resources Dr. Ruth Matagi Tofiga actively participated in the discussions both at plenary and committee.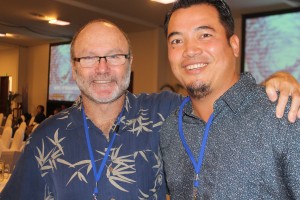 American Samoa's presence and input at these international meetings has brought to the forefront its challenges as a US territory and a Small Island Developing State.
(KHJ News observation after two Tuna Commission meetings is that it's important that continuity be maintained in American Samoa's participation at the Tuna Commission meeting because the issues are so complex and varied, and any new comer would find it hard to keep up).
Other members of the delegation were Director of Commerce Keniseli Lafaele, Joe Hamby of Tri Marine, Solip Hong, chair of the ASG Fisheries Task Force, and DMWR Chief Biologist Dr. Domingo Orchavillo and Tepora Lavata'i.