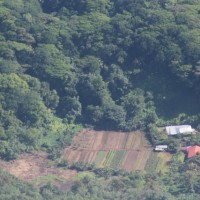 Director of Health Motusa Tuileama Nua says the Department of Agriculture and landowners are to be blamed for the current problems with Asian vegetable farms.
He believes the Department of Agriculture allowed foreign pesticides and chemicals to enter the territory and landowners are turning a blind eye to harmful farming practices  of Asian farmers as long as they are paid.
The Health Director spoke at a meeting Friday that was called by Acting Director of Agriculture Tapaau Dr. Dan Aga to explain to vegetable farmers what they need Io do in order to resume supplies of vegetables and fruits for the School lunch program again.
At present the only locally grown produce being accepted by School Lunch are those from hydroponic farms.
All others  were abruptly suspended by the Department of Agriculture three weeks ago citing that inspections found that many were using illegal pesticides and chemicals or going over allowable quantities of fertilizers.
Health Director Motusa was direct and to the point in his remarks at Friday's  meeting.
Play Audio
Tags: