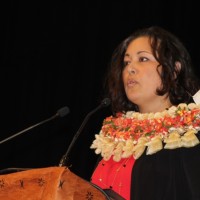 The chair of the governing body for the largest tuna fishery in the world,  the Western and Central Pacific Fisheries Commission says the Commission has to set realistic goals and be selective of issues it can tackle.
Speaking to Pacific journalists on the eve of the 13th session of WPCFC also known as the Tuna Commission, Ms. Rhea Moss-Christian, said most of the members have come to the annual meeting with a wish list of what they want the Commission to do.  
But she said it was necessary for the commission to be selective of what it can address.
She also says that small steps are progress in an organization with more than 20 member countries and each with different interests and perspectives.
Moss-Christian, who was elected chair in 2014, says  a key goal is to try and reach agreement  to a big eye rebuilding timeline.  
The WPCFC  says this tuna stock Is at 16 percent of acceptable stock levels.. 
Big eye is fished mostly by long liners which are  largely unmonitored because the boats don't have observers on board .
The WPCFC chair says the big eye rebuilding timeline is something that nearly all commission members have prioritized as something that needs to happen this year.
She said while members agree on where to start and where they need to end up, how to get there Is always the subject of discussion. 
She says the Commission is devoting a lot of time to discussing the time line for the rebuilding of big eye at this year's meeting.
 Ms Moss-Christian also wants further progress on safety measures for observers placed on vessels that fish in island countries.
Her list of goals for this 13th session also includes developing the harvest strategy framework .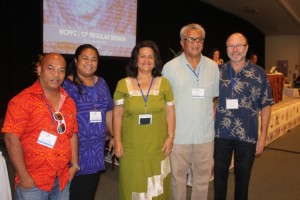 This is a resource management system that uses science to set pre-agreed rules and trigger points for action to avoid stocks becoming depleted.

Harvest strategies will eventually be established for the five commercial tuna stocks: skip-jack, big-eye, yellow-fin, albacore and Pacific Blue fin

A management plan developed for shark conservation will also be discussed.

The five day annual meeting of the WCPFC opens tomorrow morning at the Westin Denarau in Nadi, Fiji.

American Samoa's delegation here for the conference is led by Director of Marine and Wildlife Resources, Dr. Ruth Matagi-Tofiga, and includes Director of Commerce Keniseli Lafaele, Chief Operating Officer of Tri Marine International Joe Hamby, Solip Hong of the ASG Task Force on Fisheries, DMWR Chief Fishery Biologist Dr. Domingo Orchavilo and DMWR Supervisor-Boat Base, Tepora Lavata'i.

Tags: