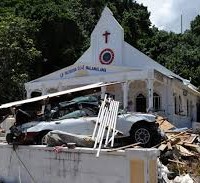 A bill, which would strengthen tsunami warning systems for the Pacific, Arctic and Atlantic oceans, provides for tsunami research and data collection as well as awareness activities , is on its way to the President for signing.
The US House passed the 21st Century Cures Act earlier this week.
Reflecting on the tragic tsunami of September 29, 2009, Congresswoman Aumua Amata said, "that was a sad day which will never be forgotten, but we can do more to prevent the loss of life in the future awhich is why I want to thank my colleagues in both the House and the Senate for understanding the importance of this legislation, and getting it to the President's desk."
She added, "Tsunamis are a very serious issue for American Samoa, and something that is never far from the minds of those who call the Pacific Islands their home."
The congresswoman is hopeful that this legislation will assist the territory be better prepared when the next one strikes.
The 21st Century Cures Act will:
consolidate separate tsunami warning systems for the Pacific and Arctic Oceans and for the Atlantic Ocean into a single warning system. And Requires the system to support international tsunami forecasting and warning efforts.
requires the National Oceanic and Atmospheric Administration (NOAA) to support or maintain tsunami warning centers to support the national warning system and develop uniform operational procedures for the centers.
calls for warning centers to utilize a range of models to predict tsunami arrival times and flooding estimates, and maintain a fail-safe warning capability.
modifies the tsunami hazard mitigation program to provide for: (1) technical and financial assistance; (2) the integration of tsunami preparedness and mitigation programs into resilience planning; (3) activities to support the development of regional hazard and risk assessments; and (4) dissemination of guidelines and standards for community planning, education, and training products, programs, and tools.
expands the tsunami research program, and
requires NOAA to designate an existing working group to serve as the Tsunami Science and Technology Advisory Panel to provide advice on matters regarding tsunami science, technology, and regional preparedness.
Congresswoman Aumua thanked her colleagues in the House and Senate for passing this important measure for American Samoa.

She said, "I look forward to the day when our technology and response times are so good, that not another life is lost to these natural disasters…until then we must continue to do all we can to make that goal a reality, and this bill is a big step in that direction."

Tags: