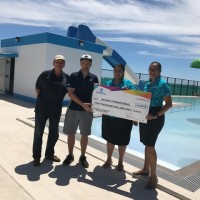 The Rotary Club of Pago Pago received a generation donation from BlueSky American Samoa today.
A check of $2,000 was presented by officials of the phone company towards completion of the Pala Lagoon Swimming Center at Lions Park.
The money was raised from a special phone text promotion specially for the swimming pool project.
Marilyn Gabriel-Pua of BlueSky's marketing team made the presentation on behalf of BlueSky management.
Play Audio
Vice President of Rotary John Raynar and past president Joe Weilemen welcomed the donation.
Play Audio
The Community Swimming Pool Project is expected to be in use in March of next year.

Tags: