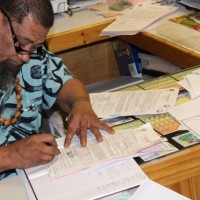 Just under 2000 businesses which were issued licenses to operate their commercial ventures this year, have yet to renew their business licenses for 2017.
The deadline to renew licenses and avoid paying the late renewal penalty for those who want to be in business again next year is December 31, which is a Saturday.
The Department of Commerce is urging business owners to come in early to renew their licenses and not wait till the last minute.
Saeu Porotesano of DOC says 3,813 business licenses were issued for 2016.
As of this morning, 1, 170 had renewed.
A new provision for business licensing which goes into effect December 14, requires that the applicant for a license pay all taxes due ASG as a condition to being issued a business license.
An administration bill that was approved by the Fono in the last regular session of the 34h legislature removes an exemption for payment of taxes as a requirement to renew or obtain a business license.
During review of the bill in the Senate Treasurer Ueligitone Tonumaipe'a said so many businesses are not paying taxes and the removal of this exception is intended to get them to pay up.
He said if businesses have unpaid taxes they will still be allowed to operate their businesses but they must make an agreement with Treasury for payment of taxes and abide by it.
DOC says until December 14 when this new provision is in effect, business owners renewing their licenses have to provide a copy of their existing number and Employment Identification Numbers (EIN) number and pay the appropriate license fee for their business.
DOC is also applying for Employment Identification Numbers, which is used for tax purposes, for businesses that don't have them.