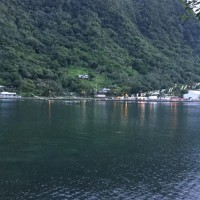 Today is a work day for both ASG and federal employees though many will opt to take the day off
Public and private schools are closed and will reopen Monday…faculty are supposed to report to work.
This afternoon is the finals of the CoastWeeks Fautasi Ocean Challenge in Pago Pago Harbor.
Heat one starts at 2pm with the Fuao from Vatia, Fetu ole Afiafi from Fagaalu, Leone's Taema, Matasaua from Manu'a and the Executive Branch fautasi  which will have a crew from the public and private sector.
The second heat will have Paepaeulupo'o from Aua, Fagasa's Fealofani Samoa, Aeto from Pago Pago, and the Fono fautasi which will have Fono and Paramount Builders rowers.
KHJ News talked with Captain of Paepaeulupoo, Leonard Liufau Sonoma about Coastweeks projects.
Play Audio

Then this evening is the opening night of the play Alofa at Lee Auditorium while musicians of all ages will be at the Shan-J Restaurant and Bar playground in Malaeimi for the Battle of the Bands.

Tags: