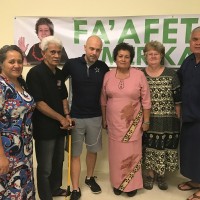 When the U.S. House of Representatives returned to Washington this week to elect officers for the 115th Congress, our own Congresswoman Aumua Amata was there to cast her vote for U.S. Rep. Paul Ryan (R-WI) to serve again as Speaker of the House.
Aumua took her place behind closed doors of the House Republican Conference, the body of all House Republicans that makes the rules and controls the business of the House, with a resounding mandate from the people of American Samoa, who retuned her to office last week with 75.4% of the vote.
Although candidates for office in American Samoa are not identified by political party on the ballot, the major U.S. parties nevertheless are represented here and Republicans endorsed Aumua for re-election in March.
Aumua won her re-election on November 8 by the largest margin and with the most votes of any candidate for Congress in the history of the territory.
Remarking on Aumua's showing, Republican Party Chairman Utu Abe Malae at the same time made it a point to congratulate President-elect Donald J. Trump on his own election.
Utu said, "We are very fortunate to have a congresswoman in the majority party at a time Republicans will control the White House as well as the House and Senate."
Even as a freshman, Aumua was chosen as chair of a Small Business Subcommittee and vice chairman of the key Natural Resources Subcommittee that has legislative jurisdiction over American Samoa issues.
She can only expect more responsibilities this next term.
Utu said, "Due to retirements and defeats, Aumua will move up over 50 positions in seniority, and that should strengthen her hand on our behalf over the next two years.
"Our Congresswoman's accomplishments in just two years, in which three of her bills were signed into law, show us how efffective our Member of Congress can be.
"Her achievements and demeanor are somber reminders to us all to stand humble in both defeat and victory. Aumua ran 10 times before finally succeeding in 2014."
John Raynar, the party's vice chairman and chairman of its communications committee said, "Some people may have been surprised at the size of Aumua's victory, but I was not.
"I think the key to her acceptance by the voters had to do not only with the warmth of her personality and accessibility to the people, but the transparency with which she runs her office.
"She lets us know what she is doing in Washington all the time and explains how national legislation will affect us. People also appreciate that she holds regular meetings in the villages to hear our concerns to take back to Washington."