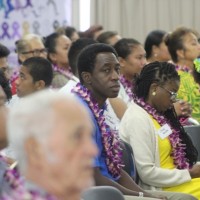 Lt.  Governor Lemanu Peleti Mauga urged delegates to the 7th annual Bilateral Health Summit on Non Communicable and Communicable Diseases to reflect on what worked in the past for solutions to health problems of today.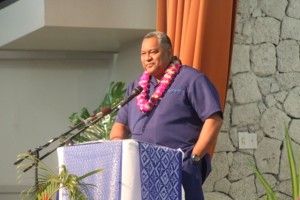 The summit which brings together health professionals, lawmakers , health advocates , educators and policy makers from the two Samoa opened this morning at the Lee Auditorium.
Samoa and American Samoa take turns hosting the three day summit and the Health Department and LBJ Hospital are hosting this year's s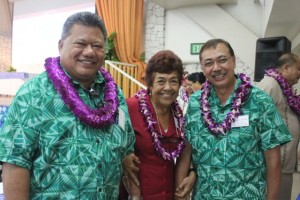 ummit.
A delegation of about 40 from Samoa is led by Samoa's Associate Minister of Health Salausa Dr. John Ah Ching , who is well known in the territory from the time he worked at the LBJ Hospital and his leadership of the Marist St. Joseph's Association which hosts the monthly church services for Toa o Samoa.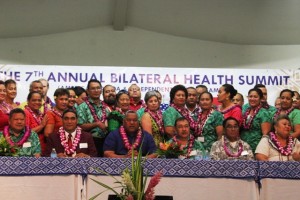 The delegation also includes the Director General of Health, Leausa Dr. Take Naseri who  was also on the staff of LBJ and Department of Health for many years.
On the American Samoa side, joining Health Director Motusa Tuileama Nua and LBJ CEO Taufetee John Faumuina and their staff are officials from the Centers for Disease Control and Prevention, the Pacific Islands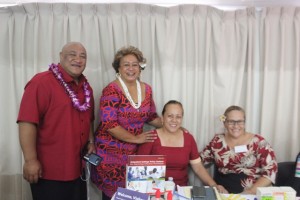 Health Officers Association and the World Health Organization.
In his keynote address, Lt Governor Lemanu spoke on the theme of the summit, "Saving money , saving time and saving lives."
He said it was worth looking at behavioral patterns and the way of living from the past for answers to the health challenges that the two Samoas face today.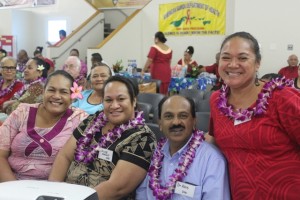 Play AudioLemanu summit