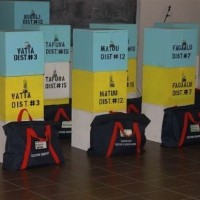 The Segaula left after 4 this morning with ballot boxes and election officials for the polling booths in Manu'a.
Police escorted the ballot boxes from the Election Office in Tafuna to the inter island doc and police will await the arrival of the vessel in Ofu and Faleasao harbors.
Commissioner of Public Safety Save Liuato Tuitele says no officer was on the boat but officers in Manu'a will be accompanying the boxes to the polling places.
An officer will also be on the boat bringing the boxes back to Tutuila.
The commissioner says uniformed officers will be assigned inside the Election Office on the day of the election.
Officers will also be escorting ballot boxes to and from the voting cites throughout the island to include Aunu'u.
Save said DPS is increasing police patrols not only around the Election Office and the Tafuna area but also around the island until the counting of ballots is done.
Today the main gubernatorial camps are going ahead with their final waves …rain or shine.
Lolo and Lemanu are staging their rally around the Utulei area, and that's set for 3pm while the Faoa and Sanitoa camps are holding their wave at Matuu.
In past elections, whenever the weather was wet on Election Day, the turnout is not as heavy as when conditions are fine.
The National Weather service issued a flash flood warning at 1030 this morning which is remaining until 1230 pm.
A trough over the Samoa group is expected to remain throughout the day and tomorrow.
The Weather Service is relying on information from Hawaii because their weather system is down , due to bad weather affecting communication links.
The weather system should be back in operation later today.