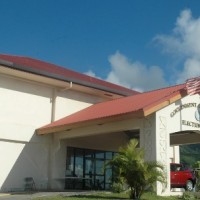 More than 700 votes have been cast for governor and lt. governor, delegate to Congress and American Samoa House of Representatives in absentee voting.
About 77 of ballots are from off-island , mainly those in the military and their dependents, students, and federal and ASG employees, while the rest are voters who reside in the territory but wont be here on Election Day, because they will be traveling and those who will be working on that day.
Fiti Tavai, an official of the Election Office who handles absentee ballots refuted statements that a local resident traveled recently to the mainland with absentee ballot forms for voters off island.
Under election law those eligible to vote absentee from off island have to request absentee ballots in writing and after verification that they are eligible, the Election Office will send them the absentee voting forms directly to their mailing addresses.
Tavai says he is not aware of anyone hand carrying absentee ballot forms off island.
He also explained the only reason the Election Office will reject an absentee ballot is when an individual did not completely answer questions on the application form.
Tavai says all applications received have to be verified to confirm they meet the eligibility requirements.