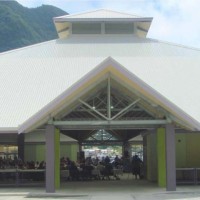 After talks between the Department of Commerce and a prospective operator for the fish market at the Fagatogo marketplace, DOC Director Keniseli Lafaele has determined that the operator was not prepared to take over the fish market.
So until further notice, the fish market will be operated and managed by DOC.
Fishery Coordinator for DOC, Tamatoa Tony Langkilde will be the acting fish market manager until further notice.
Director Lafaele said local fishermen are welcomed to sell their fish and other seafood at the fish market starting this Wednesday, November 2nd.
A nominal fee of 25 cents per lb will be assessed to help defray the cost of utilities and rent.
According to the director, local alia fishermen met last Friday and agreed to work together to supply the fish market in addition to their usual set customers, and to the fee.
The fish market hours are 7 am to 3pm Monday to Friday, 6 am to 12 pm Saturdays and if there's a demand for Sundays, the fish market will be opened 5am to 8am Sunday mornings.
The fish market was funded by the Western Pacific Fishery Management Council.