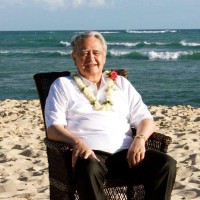 Relatives, friends, and business associates of Lealaifuaeva Peter Reid Jr., are expressing a profound sense of loss upon learning of his passing.
Several have posted messages of condolences and reminisced about their association with Leala as a businessman, politician, sportsman, donor, mentor, friend and village chief.
Congresswoman Aumua Amata said that Leala had talked her father, the late Uifaatali Peter Coleman, to run for governor in 1977, when the territory held its first gubernatorial election.
And he was among a special group of men whom her father kept close by his side
Play Audio
Aumua said despite his success in business, Leala never boasted about his wealth and he was just one of the boys.
She counts herself lucky to be included in the group that worked with him on her father's campaign.
Play Audio