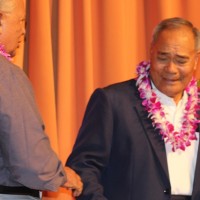 The final forum for candidates running for governor and lt governor is at 12:30 today at the Lee Auditorium.
The forum is hosted by the Developmental Disabilities Network, an organization which includes parents and agencies and organizations which provide services for and advocates for people with special needs.
The forum slated for 12:30 pm at the Lee Auditorium will be moderated by Southseas Broadcasting General Manager Joey Cummings.
Questions from parents, educators and service providers of those with special needs were submitted to the three teams prior to today's forum.
The public is invited to attend.