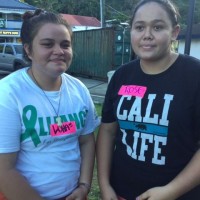 Young people are working as volunteers at the animal clinics being offered this week by Animal Balance, Alofa mo Meaola, veterinary Division of Agriculture and other agencies.
Businesses, community groups and families are also offering in kind support through meals, transportation, supplies and other services for the clinics.
The 22-member team from Animal Balance, which includes senior vets as well as techs in their early 20's from various parts of the US and other countries are being accommodated by the Catholic church at their center in Fatuoaiga.
Director of Field Operations for Animal Balance, Meredith Trippert is impressed with the interest shown by young people who turned up on their first day at the Fagatogo Pavilion,.
Play Audio
Tags: