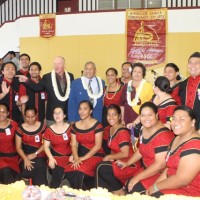 "Should the US Congress or who do you think has the right to decide the constitutionality of whether or not we should become US citizens ?
That was one of the questions that congressional candidates had to answer at the ASCC forum last Thursday.
Paepaetele Mapu Jamais, speaking as a member of the last American Samoa Political Status Commission said he's privileged, to have all his family and children a part of the American dream, and being US citizens, they can travel anywhere in the world and the best of the world.
The retired US Army Lt. Colonel said the issue is best left to the people to decide.
Play Audio
Vaitinasa Dr. Salu Hunkin Finau says this is an issue that will continue to resurface until the rightful decision makers, the people of American Samoa, decide what they really want.
Vaitinasa said the issue has been discussed by concerned Samoans who live in the mainland and other parts of the world.
Play Audio
Congresswoman Aumua Amata touched on the citizenship lawsuit by a group of US nationals residing here and in the mainland and pointed out that the US COURTS Threw out their arguments for automatic citizenship three times. The case even made it to the US Supreme court.
Play Audio
The views of Timothy Jones and Meleagi Suitonu Chapman in later bulletins.

Tags: