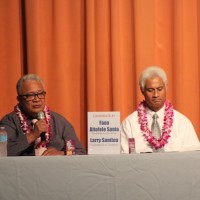 There was some spillover from the American Samoa Community College gubernatorial forum to the one hosted by the Chamber of Commerce for the governor and lt governor candidates two nights ago.
The Chamber forum had the candidates doing 20 minute presentations guided by 6 questions that were given the three teams well before the forum on Wednesday evening.
All of the questions related to business and economic development.
how they plan to move employment from the government to the private sector and curb ASG's runaway employment numbers;
if their administrations will give long term funding to develop tourism, in light of the reduced funding given tourism in the FY2017 budget;
how they plan to grow the economy for the next four years;
how they hope to improve Pago Pago Harbor and port facilities to attract pleasure boats that are now avoiding the territory because it lacks basic facilities;
do they plan to raise taxes and
if they have any plans to revise immigration policies.
The presentations followed questions from the floor relating to the selection of directors, the new government bank, and spending $13 million on the Manu'a boat vs improving the hospital.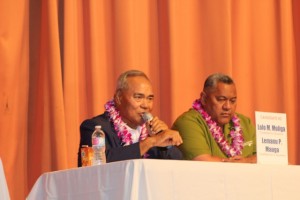 In their final statements for the evening, candidate for governor, Faoa Aitofele Sunia and his running mate Larry Sanitoa responded to a statement that Governor Lolo Moliga made during the ASCC forum.
Lolo said that Faoa was the longest serving lt. governor and he doesn't know what Faoa did for the people. that Faoa only worked for himself.
At the Chamber forum, after saying he was contemplating whether to respond, Faoa gave this statement.
Play Audio COC Faoa vs Lolo (1)
In his closing statement at the chamber forum, Governor Lolo said the campaign was bigger than all of the candidates running.
Play Audio
At the ASCC forum, Lolo had also taken a jab at Larry Sanitoa's record as a House representative.
He said Sanitoa was a faipule for more than 8 years but he hasn't seen a bill that Sanitoa introduced that was passed by both chambers and signed into law.
Sanitoa also chose to give a response to the governor's statement at the Chamber forum
Play Audio lARRY VS lOLO
Lt. Governor Lemanu Peleti Mauga meanwhile had something to say about the lt. governor's role, a response to Faoa's account of his tenure as lt governor.
Play Audio COC lEMANU