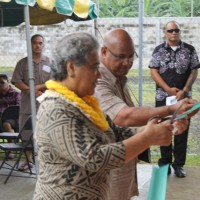 The Lolo Lemanu administration officially dedicated a new male inmate building at the Territorial Correctional Facility today.
The one story concrete structure which cost more than $3 million can hold 114 inmates.
It has 23 standard cells each holding 4 inmates, one cell that's compliant with American Disability Act requirements, 10 maximum security cells with double occupancy, showers, a day room, a security station, processing area, a laundry room and visiting rooms.
All the cells are furnished with bunk beds, cell desks and other detention equipment with a surveillance video system installed both inside and outside of the building.
The contractor for the project was B & J Construction belonging to Mr. Diosdado Guevarra and funding was provided by the Department of Interior through the CIP Program.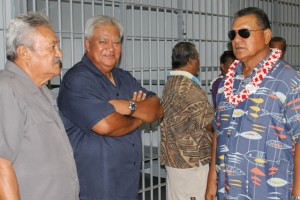 Attending the dedication ceremony were Governor Lolo and First Lady Cythia Moliga, Lt. Governor Peleti Mauga, Senate President Gaoteote Palaie and several members of the Fono.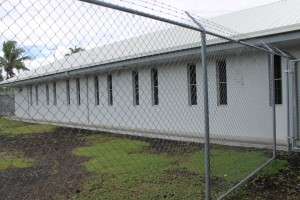 Addressing guests at the dedication ceremony this morning, Governor Lolo recalled his first trip to the TCF as governor back in 2013 when he toured the facility with then Commissioner Willam Haleck.
He said what he found was disturbing: inmates were all crowded in one room and some looked like they were sitting on others.
That gave birth to the idea of a new detention facility.
The governor said that the TCF facility initially proposed by Commissioner Haleck  was worth about $15 million.
After discussions with Public Works , the Department of Interior's Field Representative and several other agencies they came up with an affordable facility costing less than $4 million.
Governor Lolo had comments for critics of the new facility.
He said even this morning people were still calling to question why so much money has been spent on a new prison.
He said he could not believe that our very own people could ask such questions when most of the inmate population are Samoans.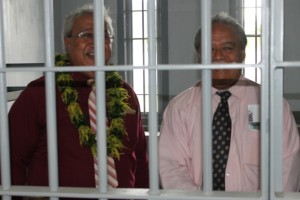 The governor stated despite the crimes they have committed,  inmates are human beings, "just like you and me".

Lolo was proud of the new facility that it was designed by a local architect and it is the first of its kind.

DPS Commissioner Save Liuato Tuitele said that despite some criticism about the amount of money spent on the new TCF facility, he is grateful to Governor Lolo for his foresight in making the project a reality.

Tags: