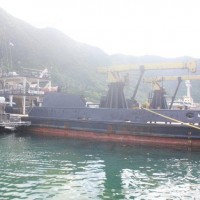 The MV Sili would be out of commission for another 6 weeks, according to Deputy Director of Port Administration, Christopher King.
The vessel has been under drydock at the government slipway and needs much more attention than earlier thought.
While the vessel is out of commission, King says charters by the American Samoa Power Authority of the Samoa Government vessel, Fotu o Samoa, has helped with transportation of cargo to Manu'a.
However the Fotu has now returned to Samoa after servicing the ASPA charters.
It's not known if and when the vessel will be back.
According to King, the delays with repairing the MV Sili is due to the deteriorated state of the vessel , requiring more work than anticipated, and because materials needed to repair it are on order.
Meanwhile Manu'a lawmaker Vesi Talalei Fautanu Jr, is requesting a hearing with Port Director Taimalelagi Dr. Claire Poumele to find out if the government has any plans to accommodate Manu'a residents.
Today Vesi's fellow Manu'a representative Toeaina Faufano Autele acknowledged Vesi's ongoing efforts for the transportation needs of their constituents .
Toeaina informed the chamber that he went out on his own to accommodate World Teach volunteers with shipment of their belongings and school supplies to Manu'a.
He explained that he had to charter and pay for the Tool Shop owner's boat to take the World Teach's cargo of personal belongings and school supplies to Manu'a.
According to Toeaina he used his office allowance to pay for the hire of the private boat.