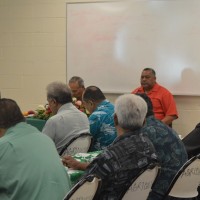 Field Represenatative for the US Department of Interior, Office of Insular Affairs in Pago Pago, Mrs. Lydia Faleafine Nomura praised the Lolo Lemanu administration saying its the one administration she has had the closest working relationship with in her more than two decades as a Field rep of the US DOI, with the exception of the Lutali Administration.
Governor Lolo said one of the success stories of this administration is the ability to work together with the Department of Interior.
He acknowledged Mrs. Nomura for her advise and suggestions to the administration on how to deal with DOI.
Mrs. Nomura seemed taken by surprise with the Governor's invitation to speak.
She announced that she is celebrating this month 25 years of working with the US DOI and next month will be her 25th wedding anniversary with her husband.
She went ont to say that besides Governor Lutali, this administration is the only one she has worked closely with and as a result the current administration has received the highest funding assistance.
Play Audio

She named among officials of the administration she has worked closely with Special Projects Director, Jerome Ielome, Chief of Staff Fiu John Saelua, Director of Commerce Keniseli Lafaele, Iulogologo Pereira Governor's executive assistant and DPW Director, Faleosina Voigt.

Tags: