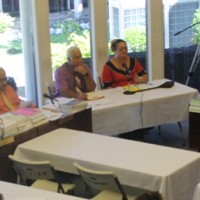 There were no questions during review of the Treasury and Budget Office's proposed budget for FY 2017 because there was no time.
Senator Tuaolo Fruean citing the same budget figures from 2016 for the two executive offices moved a motion to pass their budgets.
The motion was seconded and endorsed by most of the lawmakers who attended the joint budget hearings which started in the Senate chamber this morning.
A show of hands endorsed Senator Tuaolo's motion and the witnesses were dismissed.
Before that, Treasurer Ueligitone Tonumaipea and Budget Director, Cathy Saelua were questioned about local revenues for Fiscal Year 2017.
Treasurer Tonumaipea explained that local revenues are earned through the various taxes, licenses and permits as well as fines and fees in various government operations.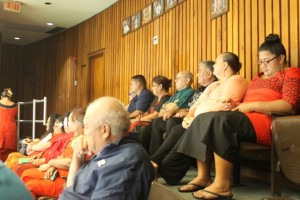 A projected $67 million collection of local revenues for the final quarter of FY2016  budget was questioned by former Treasurer, Senator Magalei Logovii.

Magalei asked how the government was going to ensure this amount will be collected.

Tonumaipe'a explained that going by the last two years, businesses tended to wait for the last quarter of the year to pay their taxes and he believes that this will also be the case this year.

The treasurer's response also answered Senator Magalei's question if ASG would be able to collect projected revenues for this quarter with two more months left in the fiscal year.

House Speaker Savali Talavou Ale, noting a dramatic drop in the proposed FY 2017 budget questioned the reason for the reduction.

Budget Director Cathy Saelua said that there's a $38 million drop in the budget of the American Samoa Power Authority.

ASPA's budget hearing has been scheduled for next Tuesday and the lawmakers will wait until then to find out more details about the cut.

ASG's  proposed budget for the new fiscal year is $378.4 million, a ten percent reduction over the current year budget.

The cut is primarily from a 20% decrease in Enterprise Funds which according to the budget summary drops from, $196.7 million to $157.9 million.

ASG is forecasting local revenues of $106 million, which is up from the amount approved in the FY2016 budget of $104.4 million.

Tags: