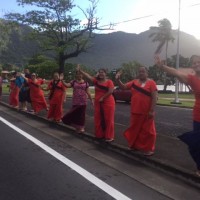 The National Park of American Samoa is building up a momentum for the main celebration of the 100th anniversary of the National Park Service on Friday.
Centennial activities started several months ago with hikes, school visits and young ranger programs to get people out to explore national park sites.
This week there's been an activity each day.
There was a Flight Night outreach at the airport on Monday night where staff gave out informational pamphlets about the park, Tuesday was Junior Ranger Day, and this morning there was a wave at Utulei Beach.
Warren King of the National Park staff explains what's planned for tomorrow and the big birthday bash on Friday.
Play Audio
Tags: