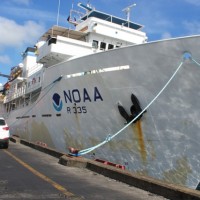 NOAA has every intention of following local regulations when they are in port, including rules about the discharge for refuse on board their vessels.
The assurance comes from the head of Field Operations, Pacific Region for NOAA's Fisheries Pacific Islands Fisheries Science Center, Chad Yoshinaga.
One of the issues Mr. Yoshinaga discussed with departments in charge of port, environmental and quanrantine regulations was the discharge of refuse from NOAA vessels.
When the NOAA Research Vessel Oscar Elton Sette tried to discharge refuse when it first called into port at the start of their fisheries study in the Samoan Archipelago, they learned that they cannot discharge garbage and other waste which they had accumulated.
The head of Quarantine at Agriculture, Elisapeta Sualevai, explained to KHJ News at the time the law specifies that no foreign vessel can discharge wastes here.
And foreign includes any vessel that is not American Samoan.
Mr. Yoshinaga said they were meeting with local officials to understand local regulations.
Play Audio
The refuse that could not be off loaded here was discharged when the Oscar Elton Sette called into Apia Harbor. 
Yoshinaga summed up where they're at in their discussions with ASG about the refuse issue. 
Tags: