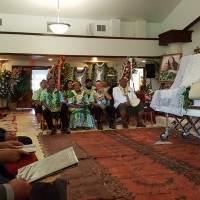 The Congregational Christian Church of American Samoa in Waipahu was filled this morning when family and friends of Mrs, Pohakalani Mauga and her husband, Lemanu Peleti Sialega Mauga, Lt. Governor of American Samoa gathered for a viewing of her body and final church service. 
Those who attended said it was like a funeral service here at home with a large number of dignitaries and family members from the territory present.
Governor Lolo Moliga and First Lady Cynthia Moliga were there, with Senate President Gaoteote Palaie and Rep Faimealelei Anthony Allen as well as Congresswoman Aumua Amata.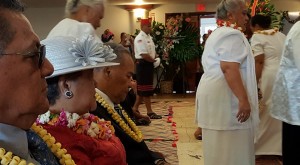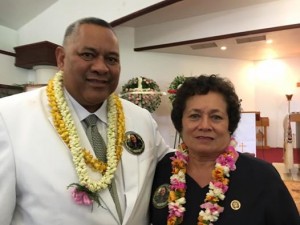 The Secretary of the Senate Leoo Vaa Ma'o  read the Fono concurrent resolution paying tribute to the service of Mrs Pohakalani and expressing sympathies to her husband of more than 25 years, their three sons, two grandchildren and parents and siblings of Mrs. Mauga or Poha as she was known.
Several directors attended, some who were already in Hawaii for business or personal trips while others traveled from the territory for the funeral.
They included Le'i Sonny Thompson,  Motusa Tuileama Nua, Save Liuato Tuitele, Utualii Iuniasolua Savusa, Lealao Mel Purcell, Ale Tifimalae and Dr. Oreta Critchon.
The Governor's Office was also well represented. Iulogologo Joseph Pereira , Minnie Tuia,  Tasileta Ioane, Aoelua Solomona, Solia Mutini, Tuimavave Laupola, Sallie Faumuina, Rochelle Reid, and Ricky Salanoa were all there.
The staff of the Governor's Office in Hawaii also attended as did personal friends of the lt governor and his late wife and many relatives from the territory.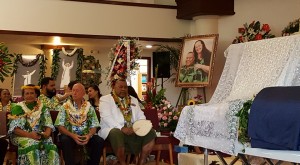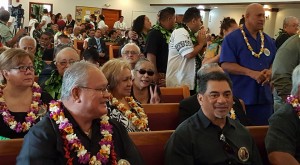 First Lady Cynthia Moliga gave the government's eulogy, and others who spoke were a sister of Mrs. Mauga, Mrs Bailey-Balidoy, Lt. Governor Lemanu, their middle son Palepoi Mauga, and High Chief Sialega.
A friend of the family says Lemanu gave a personal reflection of his life with the "woman from Hawaii" who became his soul mate and his words showed that they had a very close relationship, and did everything together.
Former Governor Togiola Tulafono, accompanied by his wife Maryann gave one of the eulogies describing how Poha dutifully tended to her role as a faletua of a matai.
He and Maryann then sang a song in tribute to Poha.
Senate President Gaoteote represented the Fono and handed the Fono resolution to Lemanu.
Director of Human Resources Le'i Sonny Thompson spoke on behalf of Governor Lolo and people of American Samoa in presenting the American Samoa flag that had draped Mrs. Mauga'a casket to her husband.
Lei asked Gaoteote to do the honor of handing over the flag to the Lt. Governor and Gaoteote obliged.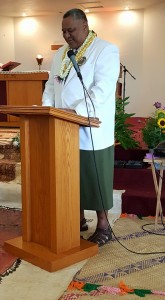 The solemn service was led by  Rev Elder Falelua Lafitaga and ministers who offered prayers or gave the readings were Catholic Deacon Tagataese Maugaotega and Bishop Filipo Ilaoa.

Rev. Muao Ava, Superintendent of the Assembly of God Church gave the sermon.

Burial followed at the Hawaii State Veterans Cemetery in Kaneohe.

Tags: