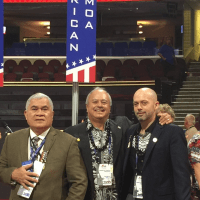 The Chairman of the American Samoa Republican Party Utu Abe Malae says while anti-Trump factions on the floor on the first day of the Republican National Convention were loud, order still prevailed.
Utu is leading a delegation of 11 from American Samoa at the convention in Cleveland, Ohio.
The members include Taulapapa Willie Sword, John Raynar, Roy Hall , John Laumatia, Joan Galeai, Ann and Jim Longnecker, Tina Ioane, Frank Barron and Brett Butler.
Today a renegade group of delegates seeking to force a rules vote were hoping to register disapproval of new party rules that favor Trump, but a handful of state delegations backed out under pressure from party leaders.
The outcome cleared the path for Trump, to accept the GOP presidential nomination tomorrow without having to clear new hurdles.
Vice Chairman of the Republican Party of American Samoa, our very own John Raynar, talked to a member of the local delegation, John Laumatia, and asked about his impressions on the first day of the convention.
Play Audio
The highlight of the first day of the convention was Mrs. Melania Trump's speech.
Play Audio
Tags: