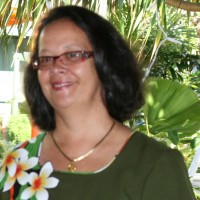 A story that KHJ News broadcast in February of 2014, a year after Mrs Pohakalani Mauga stepped into the role of being the wife of the lt. governor of American Samoa, shows her involvement with community efforts to fight cancer.
A disease which at the time she had recovered from, but unfortunately returned and claimed her life a week ago.
A territorial memorial service for Mrs Pohakalani Mauga will be held at the Lee Auditorium on Sunday and the public is invited to attend.
Mrs. Mauga was a private person and we were indeed happy when she agreed to be interviewed.
Our story from February 2014 said:
The lieutenant governor's wife is still hopeful American Samoa will one day have a treatment center for those diagnosed with cancer.
This is one of the projects Mrs Pohakalani Mauga, a cancer survivor, continues to look into.
An honorary member of the American Samoa Cancer Coalition, Mrs Mauga said it will be expensive to build a treatment center for cancer and it's going to take some time.
But they are working with neighbor hospitals like Tripler in making sure cancer patients get the treatment they need.
Play Audio
According to the local cancer registry data, 304 new cases of cancer were diagnosed between 2004-2010; 182 of them were women and 122 men. 85% of women and 87% of men died in the same year of diagnosis.