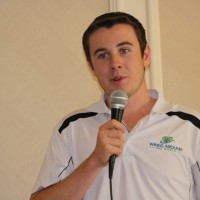 Eighteen year old Lachlan Smart was inspired by the accomplishments of other young Australians who've set world records.
For example, Jessica Watson who sailed around the world at 16 and Ryan Campbell who at 19 was the youngest person to fly solo around the world in a single engine plane
It's Campbell's record that Lachlan is now trying to break.
The Queensland teen arrived here yesterday, the second stop of his seven and a half week journey which will take him to 22 countries in five continents.
Lachlan raised part of the $350,000 cost of his endeavor through sponsorship from companies , foundations and people who believed in his pioneering spirit.
In the process, he's set up a company Young Achievers International devoted to helping young people with ideas purse their dreams.
Play Audio
Tags: