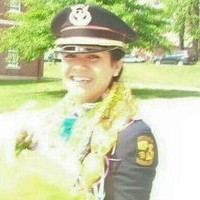 Relatives and friends of a bright young woman from American Samoa who was attending the University of Central Missouri, Kansas are reeling from the shock of her death.
Tu'iemanu Eugenie Ripley, was killed in a tragic car accident Saturday night just a  day after her 21st birthday.
The Kansas City Star reports that Tu'iemanu was a rugby player who was a member of ROTC  and was described by friends as always smiling and laughing. 
One of her friends told the newspaper she "was very bubbly, her personality was contagious.  You'll never see a picture where she's not smiling."

Tu'iemanu, who had also studied at Wentworth Military Academy and College in Lexington, Mo., was killed at 11:27 p.m. Saturday while riding in the rear-passenger seat of a vehicle driven by Calleb M. Lugano, 22, of Overland Park.

According to the Kansas City Star, the car ran off of the Interstate 435 overpass Saturday night and landed on Gregory Boulevard in Kansas City after Lugano apparently lost control of the vehicle.

Tu'iemanu graduated from Kanana Fou High School, and was a talented soccer player who was a member of the American Samoa women's soccer team at the 2011 Pacific Games.

And she was a formidable rugby player who competed for the University of Central Missouri women's team.

At Wentworth,  she was inducted into the Phi Theta Kappa Honor Society in 2014.

The Kansas Star reports that this past year she came home to American Samoa and Australia to visit family members during winter break, but decided to remain in Missouri this summer to take classes.

She referenced the trip home on her social media accounts.

"It's been 2 years since I last saw my family," Ripley wrote on Instagram. "Every time I leave it breaks my heart. Time is so precious, Esp with family. Thank you for an amazing month to reflect on my past semesters and for always picking me up when I'm at my lowest. I miss you all allot!!!"

KHJ News expresses condolences to Tuiemanu's parents, Robert and Salamaina Ripley her siblings, including Eric, who was an intern of Southseas Broadcasting and her grandparents for her untimely passing.

Tags: