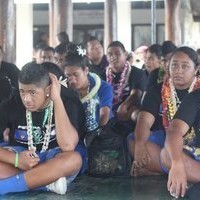 Pago Pago International Airport is normally quiet on a Saturday morning, but not last Saturday.
There was singing, clapping, cheering when American Samoa's delegation to the Pacific Arts Festival returne
d home safely after the two week event.
Bishop Peter Brown, First Lady Cynthia Moliga and Attorney General Talauega Eleasalo Ale were at the airport to greet them…shaking hands with each of the 72 members as they walked off the plane.
The United Airlines jet landed around 10:30 am and already there was a group of parents, students and clergy of the Diocese of Samoa Pago Pago in the terminal area waiting with ulas to welcome home the delegation.
Uta Dr. Laloulu Tagoilelagi, Executive Director of the Arts Council and Fr. Vaiula Kolio made their way into the Vip room followed by Miss American Samoa Suluga Taliau and Miss American Samoa Inc. President Mrs Meafou Imo.
The last to get off the plane were Faasao Marist Principal Victor Langkilde, teachers and our own reporter at the festival, Doug Tuigamala.
The group traveled back with the Samoa and Tokelau delegations and the leaders of those groups were also welcomed in the Governor's VIP Room.
As the students of Faasao Marist who performed at the festival made their way out of customs and immigration, they were greeted with loud cheer and clapping.
The school theme song broke out at one stage, then it was ulas, hugs and tears.
Though tired and with their parents and families waiting to take them home, the group from Faasao Marist gathered in the Samoan fale where they were thanked by Uta, Attorney General Talauega and Bishop Brown.

Then a prayer was said and the students sang a hymn of thanksgiving.

Welcome home and thank you for doing us proud.

Tags: