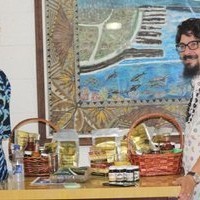 A company that announced plans to set up in the territory during the Flag Day celebrations last month, hopes to open their local business next month or July.
Nine Mile Botanicals founder Michael Fishman told KHJ News then that they would be back in the territory within a month or so to open their local business.
The company grows plants and trees with medicinal properties and also manufactures natural healing supplements and food products .
According to Director of Commerce Keniseli Lafaele the company is working on the necessary preliminary paper work for registration, licensing and secure a lease for its local operation.
He said probably by the end of June or early to mid-July the Florida-based company will open shop in the territory.
Fishman had said they would  be a buyer of locally grown plants and trees.
Director Lafaele says the company would provide a market for kava, nonu, aloe, turmeric, sasalapa  and other plants and trees grown locally or from neighboring countries.