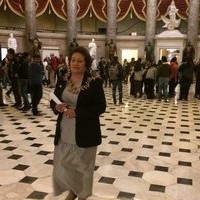 Congressional Republicans are keeping American Samoa and the other outlying territories out of a time-sensitive bill to help save Puerto Rico from further default on its debt obligations.
But KHJ News Washington Correspondent Matt Kaye reports, the island delegates are not giving up their bid to also win more federal help…
House Republicans are trying to keep the bill 'narrowly-focused' on Puerto Rico to help win passage, after earlier disagreements with the White House by both parties, forced a bill-rewrite and new committee action.
So the bill is now headed to the House floor without any hoped-for help for the outlying islands in key areas like Medicaid and tax reimbursements, forcing the delegates to mount a possible fight for a floor amendment.
American Samoa's GOP Congresswoman Aumua Amata Radewagen is already co-sponsoring separate legislation with the other delegates to 'level the playing field' in areas like the Earned Income Tax Credit—
Play Audio
Radewagen succeeded last year in winning millions more for American Samoa's schools in a catch-all spending bill that also gives Puerto Rico a 100-percent federal Medicare inpatient hospital reimbursement rate.
The delegates see this year's Puerto Rico debt relief bill as a possible vehicle to help with island Medicare and Medicaid funding needs…help that could ease LBJ hospital's financial problems.
Guam's Madeleine Bordallo's office says the Democrat will likely push for a floor amendment. But Republican Radewagen may be more hesitant to commit, in the face of GOP leadership opposition to a broader bill—
Play Audio
But Radewagen acknowledges the Puerto Rico bill may still be the vehicle to 'balance out' island differences.
Though, like all amendments, such a rider would have to go through the GOP-controlled Rules Committee, before it would be allowed on the floor.
Amata concludes, "We never say never, until we can get it all organized."