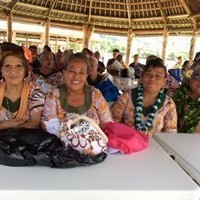 Two lawmakers were among recipients of outstanding awards presented at the Senior Citizens Day celebration at Suiga ula o le Atuvasa in Utulei today.
Play Audio
The governor's Executive Assistant Iulogolgoo Joseph Pereira reading the citation for the House Speaker.
Senator Tuaolo Fruean meanwhile was presented the Lions Club award for Community Service for his contributions in aid of TAOA programs for the senior citizens of American Samoa.
Past President Rep Larry Sanitoa presented the award on behalf of President Tafa Tupuola and the Lions Club.
The award for the oldest participant in TAOA's Senior Citizens Community Employment Program, presented by the Rotary Club was awarded to Sa Mavaega Sr.
Past Rotary President, Taulapapa Willie Sword, presented the award on behalf of President Utu Abe Malae and Rotarians.
A member of Congresswoman Aumua Amata's staff, Magele Apelu Aitaoto, presented the award for the oldest TAOA participant, Mr. Ioramo Ioramo.
A daughter of Mr. Ioramo accepted the award on his behalf.
Governor Lolo in his remarks lauded the contribution of the elderly to their families, villages, churches and the territory.
He also gave advice on staying happy and positive and not be stressed out on faalavelave.
Lolo said that faalavelave becomes a burden when people give way beyond what they can afford.
He told the elderly citizens sometimes one has to close their eyes and turn away from faalavelave.
He said just like families must live within their means the government must operate on he same premise.
That is expend only resources that are at its disposal and not go overboard.
The emcee of the ceremony Deputy Director Paopao Kuresa said that the mothers and fathers received a pay increase on Monday.

He told the crowd that TAOA employment program participants are being paid between $200 to $300 which is quite generous.

He said the seniors are happy with the benefits they are receiving and for this they thank Governor Lolo Moliga and his administration.

Kuresa said the elderly give a prayer of thanks every day for their blessings and to ask God for continued good health for Governor Lolo.

When it was time for the entertainment the elderly parents showed good humor with their satirical songs.

One group sang that they've heard the feds have approved a pay increase and they wanted to know when it will be paid.

Another group said they have been waiting for a pay increase for a long time and finally got it, perhaps because elections are near.

The elderly also heaped praise on Governor Lolo for all that the administration has done for them.

Tags: