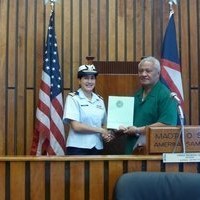 The head of the Coast Guard Marine Safety Detachment Unit in American Samoa Lt. Vignette Kalstas who's leaving the territory in a few weeks met last week with Speaker of the House, Savali Talavou Ale.
She extended her appreciation for the House concurrent resolution that the Fono passed in the last regular session thanking her for her service and paying tribute to her efforts to make marine safety a priority in the territory.
Lt Kalstas said the Speaker was thankful and appreciative that the MV Sili was up and running and was very interested in the status of the new vessel, Manuatele.
The speaker also extended his thanks to Lt. Kalstas for maintaining good relationships with the local community and the government during challenging situations.