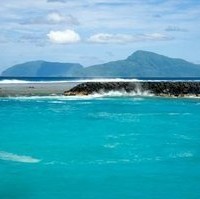 Manu'a Rep Vesi Talalelei Fautanu is the bearer of good news.
He's announced that ASG is awarding a contract for a project that has been on the drawing board for about a decade.
That's the dredging of the Faleasao wharf, to deepen the channel and clear it of rocks and sand deposits which have accumulated over the years, and becoming a hazard to vessels going in and out of the harbor.
The dredging is necessary  before the arrival of the brand new multi million dollar ferry for Manu'a due to be completed in August.
Rep. Vesi said yesterday that the Office of Procurement has awarded a contract for the Faleasao dredging to McConnell Dowell .
He says he's had a very productive round of meetings with representatives of McConnel Dowell , Stuart Pilat and Nicholas Strange.
He  has also met with ASG departments to expedite the contract paper work to get the project moving.
The first term lawmaker says the people of Manu'a have waited a long time for this project, which will help stimulate development, infrastructure improvement , trade, education and tourism in Manu'a.
He said for a couple years now, $1.5 million dollars had been approved in the ASG budget to dredge the Faleasao Harbor.
However there were other priorities, but finally a contract has been awarded and things are beginning to move.
Project Manager for McConnell Stuart Pilat says their contract for the job is about $1.4 million.
Subject to receiving the Notice to Proceed, McConnell plans to begin the work in mid to late June.
Pilat expects the dredging work to be completed in 2 months subject to weather.
The contractor will have no more than 8 people working on the project and will mobilize employees from Tutuila except for 2 or 3 laborers who will be hired in Manu'a.
Rep Vesi extended the appreciation of Manu'a senators, and his colleagues in the House, Vice Speaker Fetu Fetui Jr, and Rep Faufano Toaeina to the governor and lt governor and all the departments involved  from the beginning.
He said, "we can now see the light at the end of the tunnel."
He also thanked the people living in Manu'a whom he said are taking the brunt of the Manu'a transportation problems for " hanging in there with us."
He said, "I know patience has run itself to the very last drop, but yes help is on its way. God bless the people American Samoa for your support in prayers for our families living in Manu'a."