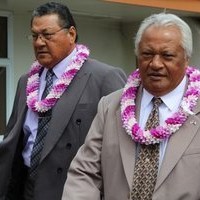 The Retirement Fund's proposal to raise the combined employee and employee contributions by 16% in order to address the unfunded liability of the pension fund is not being well received by government leaders.
KHJ News asked the governor's executive assistant Iulogologo Joseph Pereira about the outcome of  a presentation in Honolulu on Monday by the Retirement fund board and advisors on the unfunded liability, .
According to Iulogologo, President of the Senate Gaoteote Pala'ie Tofau informed the Board that the proposal cannot be accommodate in its present content because it has been very difficult to raise additional revenues for other needs of ASG.
The President went to say, that a thorough presentation is needed clearly articulating the Board's strategy to reduce spending and adopting investment strategies that will maximize the returns on our investments.
Iulogologo said the Speaker of the House, Savali Talavou Ale, expressed the same concerns.
The Retirement Fund Board  solicited the support of the Legislature and the Governor for  its proposal to raise the employee contribution from 3% to 5% and the government's contribution from 8% to 11%.
Iulogolgoo points out the bottom line is, "yearly expenses continued to exceed Fund earnings. The unfunded liability growth pattern is ascending while the Fund value declines."
Lolo's top advisor said the proposal places the financial burden on the employees and the government with no mention of the earning capacity of  investments to ease additional financial burden caused by the hike in the unfunded liability portion of the Fund.
Iugologo commented that given the narrow base from which ASG revenues are generated, "it is clear that the new financial demands cannot be accommodated."
"Hence the Fund's investment portfolios should generate the needed funds to close the unfunded liability gap."
But he said they were not informed at Monday's meeting  of the projected Fund earnings, except for a comment on the poor state of the market.
The chairman of the Retirement Fund Board Vaanatiu Toafala Iafeta said also discussed at the meeting in Honolulu was his initiative to increase the death benefit for ASG employees who are members  of the Fund.
Asked about the reaction to this proposal, Iulogoloo said the death benefit is an issue that is long-term and has very little impact on the daily lives of the employee.
He said taking 5% from the employee's salary takes away money to meet their daily life needs.
"Simultaneously, it takes away on purchasing goods and services. Consumption is reduced and business sales will be reduced thus creating financial pressures for the business community."
He said this same scenario applies to the move to increase the employer contribution to the Fund from 8% to 11% .
"American Samoa's economy will be negatively affected."