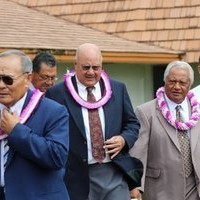 Governor Lolo Moliga did not make it to the meeting in Honolulu where Actuary advisers of the Retirement fund were to give a briefing for government leaders concerning the pension fund's unfunded liability,
The governor was scheduled to leave Friday however he delayed his departure until last night due to the pending Cyclone Amos.
But he was represented at the Retirement Fund meeting by his Executive Assistant Iulogologo Joseph Pereira and the governor's assistant legal counsel Alema Leota.
It's believed the governor came up with the idea for the Fund advisors to give a presentation on the unfunded liability for ASG leaders.
Taking place yesterday at the Alamoana Hotel, the meeting was attended by the Senate President, Speaker of the House, Senator Laolagi Vaeao of the Senate Retirement Committee and the Chairman of the House Retirement Committee, Rep Vailotata Amituanai.
Chairman of the Retirement Fund Board Vaanatiu Toafala Iafeta, Board member Beaver Ho Ching, Executive Director Iaulualo Faafetai Talia and Deputy Director Caroline Wendt were also present.
Responding to KHJ News questions, Vaanatiu who returned home last night said actuary advisers for the Fund informed the lawmakers and governor's representatives that if the employer and employee contributions are not increased now, the Fund will be defunct by 2040.
The preferred option that was discussed was to increase the ASG contribution to 10% and employees to 6%, with two alternatives for implementing the increase: either a one time hike or a gradual 1% increase per year until the 16% combined contribution is reached.
Also presented at the meeting was a proposal to increase the death benefit for members of the Fund to $15,000 for those who have served 20 years and less and to $20,000 for those who served more than two decades and above.
According to Vaanatiu, there was a good discussion about the proposals and the Fono leaders said they will carry out further review so that when legislation is introduced, they will have a full understanding of what's involved.
There are two other meetings for the full Retirement Fund Board taking place in the mainland next month, which Governor Lolo Moliga is also scheduled to attend.