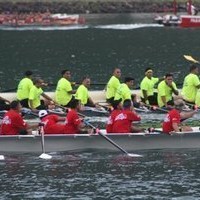 Captains of the 13 local fautasi to race for the most coveted event of Flag Day, the long boat regatta yesterday drew their lawnes for the races next week.
There will be two heats on Tuesday and the six fautasi with the best race times from both heats will race in the championship heat on Saturday.
On Tuesday, the first heat, which is scheduled to start at at 8am, weather permitting will have:
Lane 1: Fealofani Samoa from Fagasa
Lane 2: Tama o le Muaau from Faleniu
Lane 3: Aeto from Pago Pago
Lane 4: Iseula o le Moana from Fagatogo
Lane 5: Fetu o le Afiafi from Fagaalu
Land 6: Lady Taema from the the village of Leone.
The second heat is scheduled at 10:00am with the following entries:
Lane 1: Fuao from Vatia
Lane 2: Paepaeulupo'o from Aua
Lane 3: Matasaua from Manu'a
Lane 4: Manulele Tausala II
Lane 5: Manulele
The fautasi from Manono will automatically have a berth in the finals on Saturday.

The defending Flag Day fautasi champions are Nu'uuli's Manulele Tausala.

The races will start just off the airport and will finish in front of Asco Motors in Malaloa.

Tags: