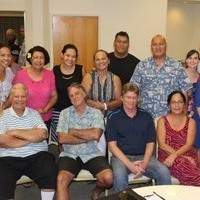 Federal officials and consultants who last night conducted an Ocean planning meeting billed asa public listening session, got a mixed reaction from the more than 40 people who showed up.
The group included one senator, a cabinet member, a judge, alia and longline fishermen and women, recreational fishers, business owners, and marine resource managers.
Two members of the American Samoa ocean planning team, Deputy Superintendent of the Marine Sanctuary of American Samoa, Atuatasi Lelei Peau and Christina Lutu, President of the Tautai Longline Fishing Association, also attended.
The meeting was a first step to gather input from the community that will be incorporated into a plan for the  balanced and sustainable management of coastal and marine areas in American Samoa.
American Samoa is part of the Pacific Islands Regional Planning group ,and according to consultants who facilitated last night's meeting, it is the first jurisdiction in the US where the gathering of opinions from the community has taken place.
Other regional planning groups will conduct their own meetings to gather community input for their ocean and coastal management plans.
President Barack Obama established the process by executive order in an effort to make the communities for which the federal plans are intended, part of the planning, implementation and ownership.
The Pacific Islands Regional Planning Group is working in conjunction with the American Samoa Ocean Planning team whose ASG representatives include the Directors of Port  and Marine and Wildlife Resources.
Michael Tosatto, the Regional Administrator of the Pacific Islands Division of NMFS was among federal officials who were at the Listening Session at Sadies by the Sea last evening.
The facilitators were consultants marine conservation and community based management from Hawaii, John Park and Miranda Foley.
Attorney and judge Marie Lafaele who has worked with the Council of Chiefs, descendants of the signors of the Deeds of Cession, on the Long Vessel Prohibited Area, repeatedly expressed reservations about last night's gathering. 
She questioned who the officials conducting the meeting were, their mandate, why they were not unvolving traditional leaders and going out to the villages, and also brought up examples where the feds have over extended their reach into areas which are under the American Samoa Government's and traditional pule or authority.

There were also questions about the group's authority to call a meeting here and what they would do with the information given them.

It was explained that the Office of Samoan Affairs has been invited to the meeting, the governor has sanctioned the process through his representatives on the American Samoa Ocean Planning Team and the session last night was a first step and other meetings would follow.

For example village meetings would be conducted by the American Samoa Ocean Planning team.

The participants were asked a series of questions relating to their views of why the ocean is important their main concerns about the state of the ocean and how they would like to see the ocean and marine resources managed.

Miranda Foley one of the facilitators said the aim of the meeting was for them to listen and those present  spoke passionately about the ocean.
Play Audio

Senator Afoa Moega Lutu said he was happy with the way that the meeting was conducted allowing open discussion by all the participants, something he has not seen in other community meetings of these type.

He said he was there as a traditional leader of the villages he represents as a matai but more so as someone who has been fishing in the oceans of  American Samoa since he was a teenager,.

He assured the federal group of his participation in and support for the process of developing the plan and making sure it will incorporate everyone's interest , especially the people who depend on the ocean for their livelihood, both commercial and subsistence.

Tags: