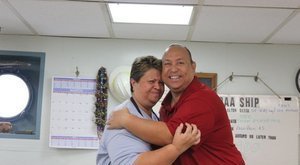 Clementine Gebauer Lutali is known as Mama on the NOAA research vessel, Oscar Elton Sette."
You can find her in the kitchen baking some delectable delights, or cooking up some island dishes for the officers, scientists and crew of the vessel.
Clementine is the daughter of the late Oloipola Hugo and May Gebauer and once ran a catering business on island.
Clementine shied away from being interviewed preferring instead to show KHJ News the breakfast menu she and her assistant cooks served up for Secretary of Samoan Afffairs Mauga and District Governors Misaalaefua and Alo this morning.
The Commanding Officer of the Oscar Elton Sette, Lt. Commander Keith Golden happily talked about their Samoan Mama.
Play Audio
The vessle is doing fisheries research work in the Samoan archipelago for the next 100 days and will be in and out of port during the expedition.

Tags: