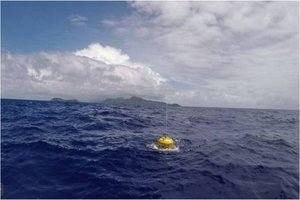 A buoy now in the water off Aunuu is providing real time data on wave height, direction and sea surface temperature.
The wave buoy is part of the Pacific Islands Ocean Observation System (PACIOOS) and was redeployed with the support of the National Park of American Samoa.
Located more than three miles offshore, the real time data from the buoy is freely available online .
Director of Marine and Wildlife Resources Dr. Ruth Matagi Tofiga says DMWR is excited that the wave buoy is back in the water to serve the community.
"Having real-time wave observations at hand helps to keep our people safe, both in the water and on land.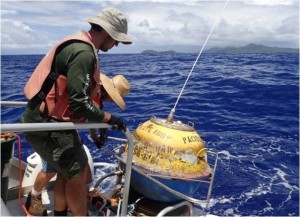 "Fishermen, commercial operators, and other ocean users can access ocean data online to make well-informed decisions for their safety when they are at sea," she said, .
The wave data is also vital for the National Weather Service, emergency responders, and local and federal officials to prepare the community for big wave events that could potentially impact the islands.
Sea surface temperature information allows local marine biologists to monitor temperature changes that may harm coral reefs.
The location of the buoy is included in nautical charts.
Peter Eves of the Enforcement Division of DMWR and member of the PacIOOS Governing Council, asks boaters not to tie to the buoy and avoid fishing near the buoy to minimize entanglement in the mooring line.
Eves says, "Fishing line and other gear can damage the buoy's mooring line. We want to make sure the wave buoy stays operational for a long time.
"It's an important ocean observation instrument for American Samoa that we need to take good care of."
The buoy off Aunuu is one of 13 real-time wave buoys in the Pac100S network across the Pacific