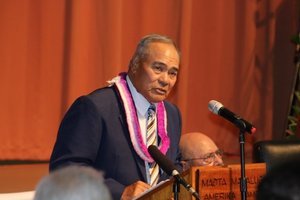 Governor Lolo Moliga has welcomed with joy the positive outcome of negotiations between the United States and Pacific island countries concerning the South Pacifc Tuna Treaty.
According to the governor's executive assistant, Iulogologo Joseph Pereira, the successful outcome was due to collaboration of all the stakeholders such as Starkist, Tri-Marine, Office of Insular Affairs, the American Samoa Government Fisheries Task Force, American Tunaboat Association, the local fishing fleet and the State Department.
There were meetings with officials of the State Department regarding the Tuna Treaty and according to the governor's advisor,  the officials were very committed and sensitive to the impact of the canneries on the economy and people of American Samoa.
According to Iulogologo the State Department reps explained the position of the State Department and the path it would take to secure a favorable outcome.
He says Governor Lolo is appreciative to the State Department for recognizing potential economic disaster that will occur if one or two of the canneries in American Samoa closed.
But there are still some unresolved issues regarding the treaty.
Iulogologo says it's uncertain whether the agreed to interim arrangement  for 2016 will extend to the future years or if it's in effect just for this year.
He says if it's just for this year, then the American Tunaboat Association and the local fishing fleet will have lost fishing days as the fishing season started some months ago.
Also during meetings of the Interagency Group on Insular Affairs the governor spoke of  the importance of sustaining the operations of the two canneries while diversification efforts are carried out.
He said to help sustain the operations of the two canneries federal incentives must continue to level the playing field against the low cost tuna producers.
The Governor also emphasized these points during his meeting with Assistant Secretary of Insular Affairs  Esther Kia'aina and Director of OIA Nikolao Pula.
Meetings were also held with reps of the Government Accountability Office (GAO) that's tasked by Congress to investigate potential alternative methods to measure economic viability  supported by factual economic data.
The Governor laid out three options as his recommendations.
In order of priority they are:
Totally Eliminate American Samoa from the Federal Minimum Wage Law.
Authorize the territory to determine its own minimum wages and
Reactivate the US Department of Labor appointed Wage Industry Committee as traditionally done for the last 40 or so years.
Iulogologo says this effort appears to demonstrate Congress's realization that American Samoa is unique and riddled with economic development impediments.

Tags: