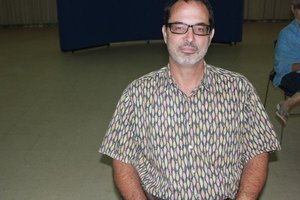 The Regional Administrator for the National Marine Fisheries Service in Hawaii won't say if the US will rescind its pending 'notice of withdrawal' from the South Pacific Tuna Treaty…even after this week's breakthrough agreement with the Pacific Island Parties that allows US tuna boats back into Pacific island waters to fish.
Our Washington D.C correspondent Matt Kaye has been talking with a key NOAA official on Pacific fishing issues and files this report…
Michael Tosatto stresses the US 'notice of withdrawal' from the South Pacific Tuna Treaty was the result of "many years of difficult negotiations and challenges," based on the old treaty model of "multi-lateral access."
And that was prior to development of a commercially-based vessel scheme used in the region, today.
But now that the US and the Pacific Island Parties have broken an impasse on the high cost of fishing days under the Treaty, which halted fishing for about 20-purse seiners home ported in Pago Pago for two-months, will the US remain a party to the Treaty?
Play Audio
Tosatto says the US is continuing to work on the Treaty with the parties,but it's too early to say, if the effort will succeed.
But the Pacific Island Parties deal is for 2016—not 2017…
Play Audio
Both the American TunaBoat Association and Tri Marine argue the current treaty model needs an overhaul.

Tri Marine's CEO, Renato Curto, says "the current treaty model is obsolete," and needs to be based on the value of the resource,rather than simply, buying access. Otherwise, he argues, the model "cannot adequately withstand fluctuations in market conditions."

Tags: