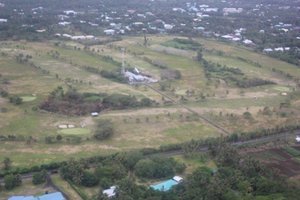 It's no longer the green green grass but rather the brown brown grass of home.
And one of the visible spots on island where dry weather has turned the greens into browns is the Iliili golf course.
The National Weather Service has reported record breaking heat since Sunday and Wednesday was a record setting 116 degrees Farenheight in the heat index.
How is this dry weather impacting on our water supply?
The American Samoa Power Authority is keeping a close eye on the water tables.
Executive Director Utu Abe Malae says they have noticed a drop in rainfall in January compared to last year.
He says the territory is also experiencing a heatwave with temperatures exceeding 90 degrees F for days.
The easterlies are dry and sucking up moisture ala the brown grass.
ASPA has moved to control pumping at water wells on the island to help conserve water and electricity.
It has installed VFD's or Variable Frequency Drive and Magnetic Flow Meters at over 20 wells so far to help control pumping based on demand.
Utu says this will help conserve water and power.
The installation of this special equipment will continue at all of ASPA's wells and booster stations to assist in the conservation effort.
Utu says the authority is also aggressively finding and repairing leaks in the system to help lower the high Non-Revenue Water and reduce pumping from the aquifer.
KHJ News asked if the public should take action and what does the ASPA boss recommend.
Utu recommends that each person help conserve water by fixing any leaks on their side of the meter, cutting down on washing cars to once or twice a month and using a nozzle to control the flow of water, and also turning off faucets when not in use.