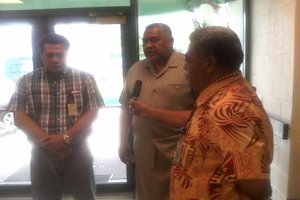 American Samoa now has about 205 suspected cases of the Zika virus.
Department of Health Epidemiologist Scott Anesi revealed this at a press conference yesterday where Lt. Governor Lemanu Peleti Mauga officially declared a Zika outbreak in American Samoa.
The first four confirmed cases includes a pregnant woman.
Four symptoms of the virus include pink eye, rash, joint pain and fever.
Anesi said that the virus is very mild so the joint pain doesn't last long like Chikungunya and it isn't hemorrhagic or bleeds like Chikungunya.
(Scottie Zika outbreak)
A medical team from the US Centers for Disease Control and Prevention will be joining CDC representative, Dr. Thai Chen who arrived Monday of last week to help local health authorities respond to the outbreak.
CDC will also be increasing resource support with the shipment of supplies due to arrive next week Friday including prevention kits for pregnant women to help reduce their exposure to potential Zika transmission.
Dr. Chen said another potential way of transmitting the virus is through sexual activities.
Play Audio
Meanwhile Director of Health, Motusa Tuileama Nua will lead a meeting this afternoon to confirm the unified health command team which will lead preventative measures including a territorial clean-up.
The team is made up of representatives from different government agencies.
The DOH Director said that they will share either today or first thing next week their action plan to counter the Zika outbreak.
Motusa said this will not be an overnight task and they would need time to discuss what is most appropriate and realistic in executing their plan.
​
Lt. Govenor Lemanu asked directors yesterday to make their resources available and urged everyone to cooperate and closely follow the direction of the unified health command team.
He also urged members of the public to seek treatment from the hospital immediately if they detect any two of the Zika symptoms explained by the DOH Epidemiologist.