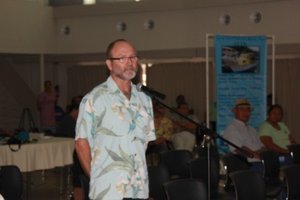 The American Samoa Fisheries Task Force is collecting information from ASG departments and agencies that will help them make a recommendation to the governor concerning requests from the two canneries for incentives.
Joe Hamby, Chief Operating Office of Tri Marine International, owners of Samoa Tuna Processors, made STP's request for incentives in a January 8 letter to Governor Lolo.
The biggest challenge facing the two canneries is access to fishing grounds for direct delivered fish to keep their plants in production at a competitive cost.
Hamby said not one US flag tuna purse seiner is able to fish in the Western and Central Pacific.
And this is a crisis not just for Tri Marine and Samoa Tuna Processors but for StarKist, American Samoa and the entire US purse seiner fleet.
.
He said their substantial investment in American Samoa was based on the expectation that tuna is a limited but renewable resource that over time would increase in value.
Instead, in the past five years the price of tuna has declined from well over $2,000 per ton to less than $1,000 today.
Hamby said "there are too many boats catching too much fish."
He says resources owners have chosen a policy that encourages the growth of the purse seiner fleets to stimulate demand for their Vessel Days Scheme.
"They have been highly successful in driving up the price of fishing days"
This while the growth in fishing effort and the efficacy of that effort has cut the price of tuna by more than half.
Hamby told the governor, "the broken South Pacific Tuna Treaty" is the latest threat they have to address, adding that they are in the hands of the State Department and the American Tuna Boatowners Association.
He said they will work with the urgency required to avoid an interruption in  the supply of tuna to the canneries in Pago Pago.
Hamby, a member of the American Samoa Fisheries Task Force, said the recent increase in the minimum wage was a major setback for the canneries.
And the low price of tuna takes away an important part of the duty advantage that the American Samoa canneries have over their Southeast Asian competitors as well as tuna producers who rely on loin based supply boats.
Saying, "we are not ashamed to admit that we need your help," the Tri Marine official gave this wish list to the governor:
  50% reduction in the cost of electricity;
50% reduction in the cost of   water;
two year moratorium on lease payments;
for the  governor to request the US trade representative to establish a minimum duty on cooked and frozen loins of 12:5%;
for the governor's support for Section 30A benefits for Samoa Tuna Processors; and
the governor's support for increasing the volume of US Department of Agriculture shelf-stable tuna product procurement.
StarKist Samoa also requested incentives which we will report on tomorrow.

Vaamua Henry Sesepasara, the governor's advisor on fisheries, says the canneries never threatened to take action if their requests are not met.

He says the Fisheries Task Force is now collecting data to help with an assessment of the canneries request.

Tags: